When investing in commercial real estate, there is little question that a property's location is one of the most important elements in its success. But determining which market(s) to invest in is more complex than it seems. There are a myriad of data points to consider, one of which is the property's "submarket."
In this article, we will describe what a submarket is, why they are important, the characteristics of a good submarket, and how the location within a specific submarket contributes to a commercial real estate investment's success. By the end, readers will have the information needed to identify a good submarket as part of the pre-investment due diligence process.
At First National Realty Partners, we invest a tremendous amount of time and resources into analyzing a property's market, submarket, and location to ensure we maximize the chances of a positive return for our investors. If you are an accredited investor and would like to learn more about our current commercial real estate investment opportunities, click here.
Understanding Market, Submarket, and Location
There are three elements used to describe a commercial property's geographic footprint: market, submarket, and location.
Market
A commercial property's market is a large area that is closely correlated with the city in which a property sits. Specifically, commercial property markets are typically identified by a Metropolitan Statistical Area or "MSA." MSAs have very specific boundaries and are tracked closely by the US census bureau.
Submarket
A submarket is a smaller part of a larger real estate market. A typical market has many different submarkets. Submarkets are often identified as neighborhoods or suburbs within the larger MSA.
Location
A commercial property's location refers to the exact place where it sits. The location is usually described by the property's address.
So, when it is expressed that a property's location is an important part of its investment success, the implication is that these three elements (market, submarket, and location) must work together in a successful investment. For example, a property could be located in a top tier real estate market and submarket, but if the specific location is poor, it may underperform.
Submarket Example in Real Estate
To illustrate how market, submarket, and location work together in commercial real estate, an example is helpful. Suppose that we found a Publix grocery store anchored retail center located in Orlando, FL, and we wanted to perform due diligence on the submarket.
Step 1: Look for the Market/MSA
To start, we would look for the market/MSA. There are 384 MSAs that are tracked in the United States, so the odds are that most properties will either be within or very close to one of these metropolitan areas. Orlando, FL, is located in the Orlando-Kissimmee-Sanford MSA, which is the 22nd largest in the United States. According to the US Census Bureau, this MSA grew by 25% between the 2010 census and the 2020 census, which makes it one of the fastest growing in the country.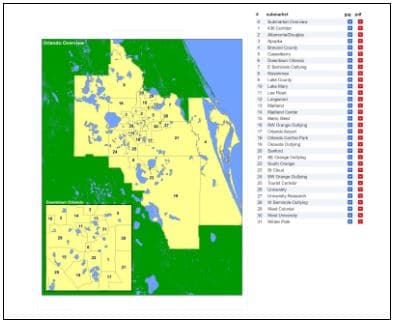 Step 2: Look at the Real Estate Submarket
Next, we would look at the real estate submarket. The Orlando-Kissimmee-Sanford MSA is huge; it stretches ~50 miles from one end to the other and has 30+ different submarkets (see diagram above), each of which have a very different investment profile. For example, the Airport/Lake Nona submarket leans heavily towards office properties and industrial/logistics facilities due to its proximity to a major international airport, while the Winter Park/Maitland submarket leans more towards residential real estate because they have many nice neighborhoods.
Step 3: Look at the Location
Finally, the last part is the location, which is the exact address. Suppose this was the property. It is located at 2873 S. Orange Avenue, which puts it on the border of the Downtown/South Orange submarket(s). This particular location is a good one, just off a busy street, with a dedicated turn lane and a large surrounding population.
The market, submarket, and location for this particular property are all good, so they add strength to the overall real estate investment opportunity.
Why Investors Need to Understand Submarkets
It is important for investors to understand the characteristics of a real estate submarket so that they have a clearer picture of a property's risk/return profile.
Submarkets that have attractive demographic trends, like positive job growth, a growing population, and a diverse financial base, tend to be correlated with rising property values. At the other end of the spectrum, real estate submarkets that have a shrinking population, low or no job growth, and are tied to a single industry tend to be correlated with stagnant or declining property prices.
When investing on their own, individuals can search for submarket statistics through publicly available databases like the census bureau, bureau of labor statistics, or property records. Or, they can subscribe to paid sources like CoStar or Real Capital Analytics, who package this information into attractive reports.
Advantages of Investing in Specific Submarkets
Like any market, each commercial real estate submarket has its own risk/return profile. As such, there are advantages and disadvantages to investing in specific submarkets.
There is a very specific reason that investors devote a substantial amount of time towards researching which real estate submarkets are the best. The difference between a good submarket and a bad one can have a major impact on future investment returns. Finding the right submarket can have several important benefits:
1. Growth
Strong real estate submarkets may post above average growth figures relative to the surrounding areas. Or, in times of economic distress, they may decline slower and rebound faster.
2. Occupancy
Because strong submarkets tend to have higher levels of demand for space, they also tend to have consistently higher levels of occupancy/lower vacancy rates. This translates into higher valuations and future profits.
3. Demand
Again, because strong real estate submarkets tend to be places that are popular, they have high demand for space. This means it can be easier to rent space when it becomes available, or that it can be faster to sell a property when it is put up for sale.
4. Amenities / Community
Finally, strong submarkets tend to have desirable amenities. For example, the best real estate submarkets have vibrant shopping, dining, entertainment, arts, and cultural amenities, which are good for investors of all property types, but especially multifamily, office building, and retail properties.
Risks of Investing in Specific Submarkets
While the above stated benefits can drive higher returns, investors should also be aware of some drawbacks of investing in strong submarkets. There are four notable risks of investing in strong submarkets:
1. Cost
Popular real estate submarkets can be much more expensive than less popular submarkets. Or, another way to think about it is that investors must pay a steep price to enjoy the benefits of strong submarkets.
2. Competition
All of the benefits above are predicated upon the idea that property can be purchased in the first place. This may not be as easy as it seems. The competition to purchase the best real estate properties in the most attractive submarkets can be intense. As a result, buying them at a price that makes sense can be a real challenge.
3. Spill Over
Strong submarkets are not necessarily surrounded by other strong submarkets. In addition, markets are not necessarily dormant. If market conditions shift for the worse in an adjacent submarket, they could spill over into the strong submarket and have a detrimental impact.
4. Property Type(s)
Some real estate submarkets are heavily concentrated with a particular property type. For example, a submarket that houses the central business district may be heavily populated with office space. Or, a suburban submarket could have a heavy concentration of industrial space or healthcare facilities. These "corridors" that are heavily levered to one particular type of asset can experience a disproportionate impact during an economic downturn. A well diversified submarket is better.
These risks should be weighed against the benefits of any real estate submarket to determine if the risk/return profile of investing in it is acceptable.
Submarkets & Private Equity Investment
Identifying good submarkets is a critical component of a successful commercial real estate investment. But, doing the real estate research necessary requires high level data/market analysis skills, software tools, and the ability to identify and interpret trends in the data. This is time consuming and tedious work and it requires a very specific skill set to complete. Many individual investors don't have the time to complete this task on their own.
For this reason, it can be beneficial for individual investors to partner with a private equity firm to invest in commercial real estate assets. When they do, the investor can count on the firm's real estate professionals to perform relevant market/submarket/location analysis in an effort to find the most suitable properties for investment. With a quantitative case behind it, the odds of a profitable return may be slightly boosted.
Summary & Conclusion
A real estate submarket is a small component of a broader market.

Markets are often referred to by their Metropolitan Statistical Area (MSA), which is a large urban area like Atlanta, Dallas, Los Angeles, or Washington DC.

Real estate submarket boundaries may be somewhat fuzzy, but they are often well known areas within the market. For example, Buckhead is a well known submarket of the Atlanta MSA.

It is important for investors to understand real estate submarkets, and their investment profile, so that they can maximize their chances of a profitable investment.

Benefits of investing in a strong submarket include growth, demand, liquidity, occupancy, and nice amenities.

Risks of investing in a strong submarket include cost, competition, concentrated property types, and potential negative spillover from adjacent submarkets.

Identifying strong submarkets requires data analysis skills, a lot of time, and the ability to interpret trends. Individual investors may not have the time to do this work so it can be helpful for them to partner with a private equity firm who can do this work on their behalf.
Interested In Learning More?
First National Realty Partners is one of the country's leading private equity commercial real estate investment firms. With an intentional focus on finding world-class, multi-tenanted assets well below intrinsic value, we seek to create superior long-term, risk-adjusted returns for our investors while creating strong economic assets for the communities we invest in.
If you would like to learn more about our commercial real estate investment opportunities, contact us at (800) 605-4966 or info@fnrpusa.com for more information.