Investing in a retail shopping center has the potential to be a profitable transaction.  If done correctly, it can potentially deliver a stable stream of rental income and steady capital appreciation resulting in attractive total returns. However, buying a shopping center isn't nearly as easy as picking up a few things at one of the stores within it.  An investment in a shopping center requires considerable thought, resources, operational expertise, and due diligence.  
Let's start by first understanding the characteristics of a shopping center.
Traditionally, a shopping center contains one or more "anchor" tenants who have a recognizable name, solid business, and the ability to drive traffic to the center on their own.  The anchor tenants are supported by a mix of smaller tenants whose businesses offer products and services complementary to those of the anchor such as a coffee shop, dry cleaner, nail salon, etc. Shopping centers offer valuable real estate and operational efficiency.  
However, owning a shopping center isn't without risks.  The success of tenant businesses, particularly the smaller ones, are subject to changing consumer tastes.  In addition, shopping center success is directly impacted by the ever-changing landscape of surrounding neighborhoods, competition, and the high cost of tenant improvements. To increase the odds of success, investors contemplating a shopping center investment may want to carefully evaluate a wide range of factors that drive the current and future value of the property. 
Here are the three things you should look for when it comes to investing in shopping centers:  
Location and visibility
In commercial real estate, it's often said that location is everything and it's especially true for retail shopping centers.  To maximize the odds for success and to attract top tenants, it's critical that the center has an excellent location with strong visibility from major roads and easy ingress/egress from the center itself.   
The key characteristics you should be looking for include: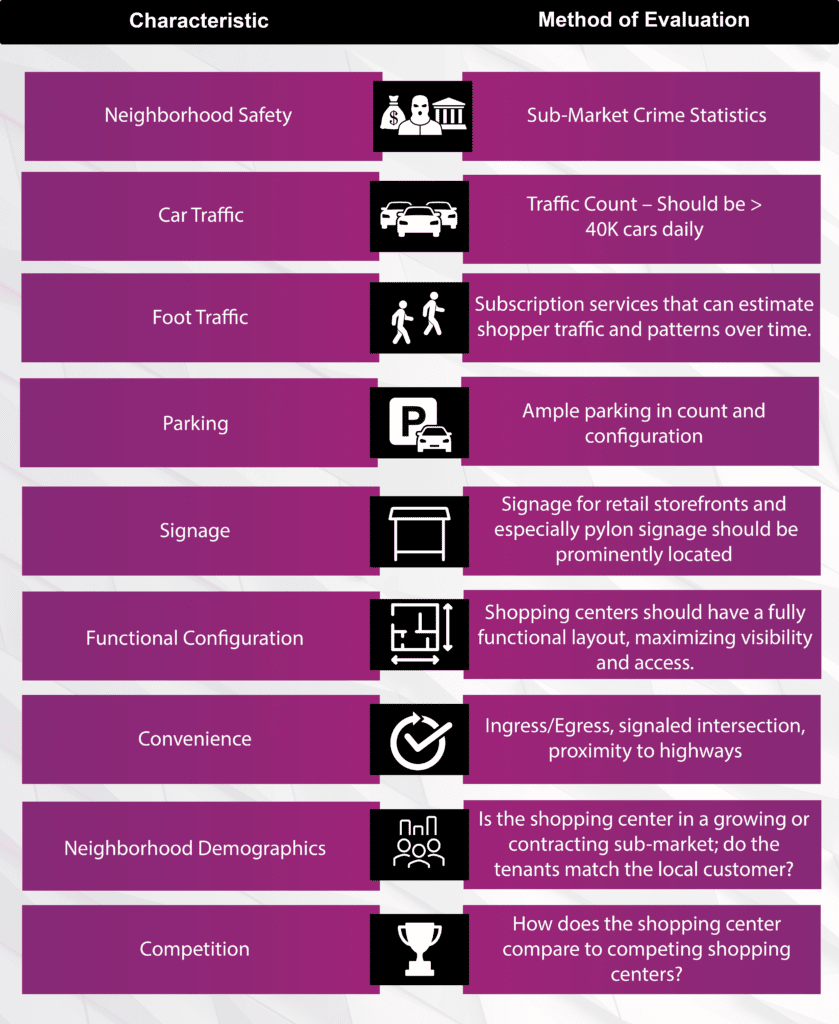 There are a lot of location characteristics and evaluation methods to consider. For more details, check out our podcast and blog focused on The Basics of a Great Commercial Real Estate Location.  
The Quality & Age of the Shopping Center
It's important to consider the current condition of the building before making an investment.  Older shopping centers may have a lower price tag, but prospective owners should be prepared to allocate capital to maintenance and plan for potential big ticket repair items like electrical, plumbing, HVAC and roofing.  
On the other hand, buying an older property at an attractive basis and investing in renovations to bring the physical condition up to current standards can allow an owner to increase rents, which raises the value of the property.  
The Tenants
It's important to consider the shopping center's existing tenant base within the context of the demographics of the surrounding location.  For example, a luxury shopping mall with high end tenants may not be a good fit for an economically distressed area. It's also important to consider the financial strength, experience, and diversity of the tenant offering.   
In an ideal situation, there's an anchor tenant in place to drive traffic to the shopping center and a series of supporting tenants whose products complement those of the anchor. National retail chains make for great tenants with long-term leases that would be attractive to the investors.   
Given these key attributes that investors should consider when they invest in shopping centers, it is important to find a private equity firm that specializes in selecting only the best-in-class shopping centers around the country. FNRP's investment strategy is focused on investing in market-dominant grocery-anchored retail shopping centers at a significant discount to replacement cost. Interested in learning more?