There are many things to consider when trying to decide whether or not to purchase a commercial property.  For example, potential investors should review the rent roll to see how much revenue the property produces and they should look at the operating statement to see how much it costs to manage the asset on an annual basis.  They may also want to inspect the property's physical condition to ensure it is safe for occupancy and to assess what, if any, renovations need to be made.  All of these attributes are relatively easy to evaluate because they are quantitative and can be measured.  
But, there are other property attributes that are equally important to the success of an investment that are more difficult to measure.  We call these the "intangibles" and three of the most important are a property's visibility from the road, the ease of ingress/egress, and parking.
Visibility
By definition, commercial real estate properties are places where business is conducted.  As such, they need to be visible to those who are looking to live, work, or shop in them.  Unfortunately, there aren't any visibility metrics that can be measured for a potential purchase, but properties with great visibility tend to have a few things in common:
Frontage

:  Highly visible properties have direct frontage on multiple sides of the roads that lead to it.  Ideally, this includes frontage on the main road, but there could also be frontage on side roads which allow for the property to be seen and accessed from multiple sides.

Signage:  To go along with multiple sides of frontage, highly visible properties have ample signage to alert potential visitors to its presence.  Ideally, the signage is placed in a location with high visibility so it can be easily seen.  It should also be unblocked by things like trees or utility poles.  For example, we invest in shopping centers and we always look for properties that have signage both on the stores and out front near the road so it can be seen by passersby.  
Landscaping

:  Trees and shrubs are beautiful and they add a significant amount of character to a property.  But, if they are in the wrong place, they can obstruct the property and impact its visibility.  They should be neatly trimmed and should not block store entrances or property signage.

Traffic Counts

:  Highly visible properties are best in locations where there are high traffic counts of both cars and pedestrians.  High visibility, combined with high traffic means ample opportunities for a passerby to stop in to purchase something from a tenant business.
The best commercial properties are highly visible from the road and we always look for these attributes in our potential purchases.
Ingress / Egress 
Ingress/egress are the technical terms that are used to describe how easy it is to get into or out of a property.  Again, the specifics may vary by location, but properties with easy access tend to have the following attributes: 
Signalized Intersections

:  If a property is located at an intersection that has traffic signals, the flow of traffic into and out of it is easier and more orderly.  If the entrance to the property has a dedicated turn lane with an "arrow" traffic signal, it is even better.

Multiple Entrances / Exits

:  Properties with good ingress/egress have multiple points of entry and exit.  For example, the main entrance/exit for a retail center or office building could be from a signalized intersection off of the main road.  But, there could also be additional entries and exits from side roads to accommodate traffic coming from those directions.
To illustrate the importance of ingress/egress, consider the two pictures of shopping centers below.  Which one looks like it is easier to get into and out of?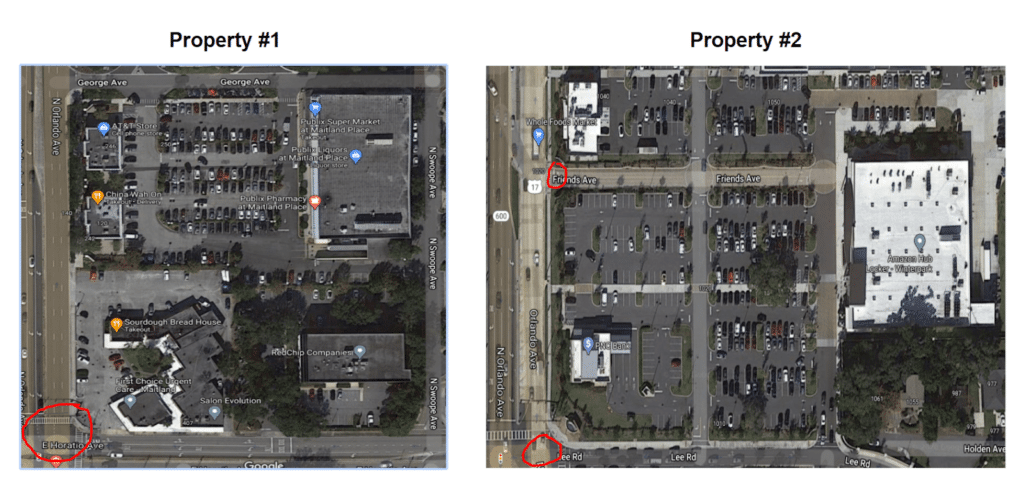 Both of these pictures are of retail shopping centers.  Property #1 has a solid median in front of the property that prevents drivers from turning directly into the property.  Instead, they must go up to the intersection (circled) and make a U-Turn or turn left and enter on the street behind the center.  Property #2 is located on the same road, but it has dedicated turn lanes and multiple points of entry from the main road (circled).  There is no solid median so the access is much easier.
Parking
One thing that all commercial properties have in common is the need to have a place for visitors to park.   Whether the property contains retail space, office space, private offices, medical offices, mixed-use space or a multifamily building, everyone who lives, works, or visits needs a place to park.  In addition, ample parking is useful as part of a leasing pitch to potential new tenants.
Unlike the other intangible attributes, there is some quantitative component to measuring the adequacy of a property's parking lot.  In general, parking is measured as a ratio of parking spaces per 1,000 square feet of leasable space in the property.    Exact requirements can vary widely by property type and zoning rules, but as a general rule of thumb, a commercial property should have 3 – 5 parking spaces per 1,000 square feet of  leasable space.  So, if a retail building has 50,000 square feet, the ideal number of parking spaces is 150 – 250.  In addition, the parking area/parking structure needs to meet ADA requirements for the number of available handicapped spaces.
Summary & Conclusion
Bottom line, there are many aspects of a commercial property that can be measured and they are important inputs into the ultimate investment decision.  But, there are also some attributes that are harder to measure and they are no less important in the evaluation of the property.  Visibility, ingress/egress, and parking are three of these and they should be carefully evaluated prior committing to an investment opportunity.
Interested in Learning More?
First National Realty Partners is one of the country's leading private equity commercial real estate investment firms. We leverage our decades of expertise and our available liquidity to find world-class, multi-tenanted assets below intrinsic value. In doing so, we seek to create superior long-term, risk-adjusted returns for our investors while creating strong economic assets for the communities we invest in.
When evaluating potential properties for purchase, we always review the property's intangibles prior to committing to the deal.
If you are an Accredited Investor and would like to learn more about our investment opportunities, contact us at (800) 605-4966 or info@fnrpusa.com for more information.