Depending on the perspective, investment fees are a topic that can elicit mixed responses.  From the investor point of view, they can reduce overall returns.  From the manager's perspective, they are necessary to support the administration of an investment.  Either way, investment fees are an important topic to discuss.
In our case, we run a company that manages two and a half million square feet of real estate, which is an administratively expensive undertaking.  We rely on fee income to offset the cost of it.  We strive to be transparent about our fee structure.
In this article, we'll explain the different types of fees on investment returns.
At FNRP, we take great care to align the financial interests of our investors with our need to fund the administrative operation that supports them. If you're an accredited investor and you want to learn more about our commercial real estate investment opportunities, click here.
What Goes Into the Administrative Fee?
The administrative fee can range from 0.1% to 0.2% of invested equity and provides the funding that pays for the expense of employing a team of real estate professionals to manage a fund's investment.
Managing dozens of portfolio properties and thousands of investors to the standard that we expect of ourselves is expensive.  It requires a highly trained staff in fields such as legal, accounting, marketing, property management, and property acquisition.  Because there are specialized disciplines with high demand for workers, the salaries and costs needed to support our talented team creates a certain level of overhead cost.
In addition, we continue to invest significant sums in technology tools and platforms designed to bring a high degree of efficiency to our own operations and to provide a superior and transparent experience for our investment partners.
In short, the administrative fee is used to create, maintain, and improve the infrastructure required to support our investment programs.
Types of Fees on Investment Returns
Private equity real estate deal fees impact returns.  But, the question of how much is relative to performance.  When comparing managers with a similar fee structure, the one with the better track record of returns provides more value for the same fee.  For example, First National Realty Partners is one of the leading private equity real estate firms in the United States.  Our fees may be higher than other managers, but we have an established track record of delivering strong returns to investors.  So, to us, it isn't a question of how much our fees impact investment returns, but how much performance our investors get from the fees that we charge.  When looked at through this lens, we believe our fees provide compelling value
For investors evaluating our fee structure relative to peer firms, it is important to understand what types of fees are charged, and why.  The table below outlines common fees and normal ranges for the market[1]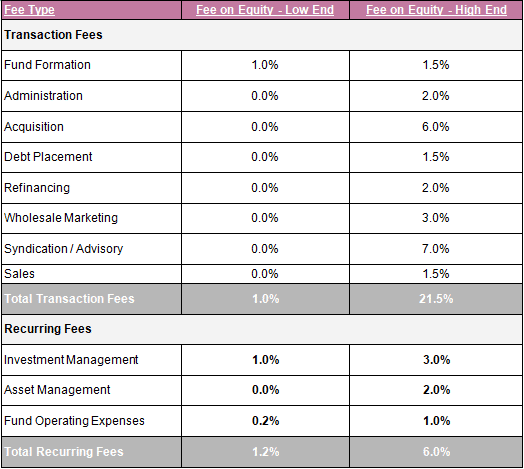 For context, let's go through exactly what each one of these fees are and why they matter:
Fund Formation Fee
The legal, accounting, travel, marketing, and administrative costs associated with starting a new investment fund can be significant.  To recoup these costs, it is common for an investment manager to charge a fund formation fee between 1% and 1.5% of invested equity.
Administration Fee
It takes a team of real estate professionals across different domains of expertise to support and manage a fund's investments.  The administrative fee is charged to provide the funding that pays for the expense of employing them.  This fee can range from 0.1% to 0.2% of invested equity.
Acquisition Fee
In individually syndicated deals, as opposed to funds, syndicators may charge a fee for their effort in putting together the capital needed to close a deal.  The acquisition fee can range from 1% to 2% of asset size.  It is less common for private equity real estate funds to charge an acquisition fee so it's an important one to keep an eye out for.
Debt Placement Fee
When debt is used to finance a deal, an outside broker may be used to obtain it.  If this is the case, it is normal for a fee to be paid for their services.  On occasion, the manager may choose to layer an extra fee on top of the broker fee known as the debt placement fee.  Combined, the fee may range from 0% to 1.5%.
Refinancing Fee
For assets that need repairs and/or renovations, it is common to obtain a short term loan to fund these costs and to refinance the asset once stabilized.  Because it takes time and effort to line up a permanent loan, a manager may charge a fee for their efforts.  It is normal for the fee to range from .25% to 1%.
Wholesale Marketing Fee
To distribute their product to a wide audience, non-publicly traded REITS may charge a fee that is paid to a broker dealer for sales efforts on their behalf.  This fee can reach 3% of equity, but its existence depends on whether or not wholesalers are used as part of the marketing strategy.
Advisor/Syndication Fee
Certain companies, including private REITs, use a broker-dealer network to distribute their products through financial advisors.  In many cases, the financial advisors are paid an upfront advisory fee ranging from 4% – 7%.  In addition, some syndicators will charge an upfront fee, adding it to acquisition and/or transaction charges. On occasion, these fees are buried in the fine print of the "sources and uses."
Selling Fees
When it comes time to sell a project, it is common for a manager to partner with a broker who has the capability and network to get the best price for the property.  For their services, the broker may charge from 1% – 3%, but some managers may try to add .25% to .75% on top of it.
Committed Capital Fee
In some cases, an investor may make a financial commitment to a fund, but the entirety of the commitment may not be drawn down for some time.  In such cases, a management fee may be charged on the amount committed, no matter how much is actually drawn down.  The fee may range from 1% to 2% of the commitment amount.
Investment Management Fee
To pay for the operations and management of the investment, a fee of 1% to 2% of invested equity may be charged.  It should be noted that the investment management fee is not charged on top of the Committed Capital Fee, but instead of it once capital has been invested.
Asset Management Fee
In deals where there is a joint venture partner, it is common for an asset management fee to be charged on top of the property management fee charged by the operating partner.  The fee can range from 4% to 6%.
Performance/Incentive Fee
The performance or incentive fee is slightly different than the others listed above.  The income from those fees is not intended to be a profit center for the manager.  However, the the income from the performance fee may be a profit center, depending on the performance of the property or fund.
In many private equity real estate deals, it is common for the manager to charge a performance fee.  It is usually paid when the asset is sold and can range from 10% to 75% of profits once pre-defined return hurdles have been met and all investor capital has been returned.  For high performing managers, this can be a lucrative source of income because, the better the investment performs, the higher the incentive fee.
Interested In Learning More?
Fees are a given when working with professional investment managers, regardless of the asset class.  If considering an investment between multiple firms, it is important that the fee structure for each be clear, transparent, and aligned with the interest of the investor.  In addition, it is important to consider both the total amount of fees, and the fees relative to historical performance.  If one firm has higher fees than another, but a stronger track record of performance, they may be worth it.
First National Realty Partners is one of the country's leading private equity commercial real estate investment firms. With an intentional focus on finding world-class, multi-tenanted assets well below intrinsic value, we seek to create superior long-term, risk-adjusted returns for our investors while creating strong economic assets for the communities we invest in.
If you'd like to learn more about our investment opportunities, contact us at (800) 605-4966 or info@fnrpusa.com for more information.
---
[1] Fees are ranges only and may vary from one firm to another.  Always review the offering documents for the exact fees charged.