Unlike residential real estate, which is valued on comparable sales, commercial real estate ("CRE") is valued on a metric called Net Operating Income ("NOI").  And, one of the major benefits of investing in commercial real estate is a concept called "Forced Appreciation," which is when a property owner takes proactive steps to maximize the amount of Net Operating Income or cash flow that a property produces, thereby increasing its value in the process.
To fully understand the value-add commercial real estate investment, it is first necessary to understand how Net Operating Income is calculated.
What is Net Operating Income?
Although the specific line items may vary by property type (multifamily, office buildings, retail, etc) and asset class (Class A, Class B, etc), the Net Operating Income calculation is generally the same for all of them.  It is a property's income, less all of the expenses required to operate it (which includes the vacancy rate).  To fully understand how it is calculated, it can be helpful to view it in the same way it may appear in a proforma or financial statement: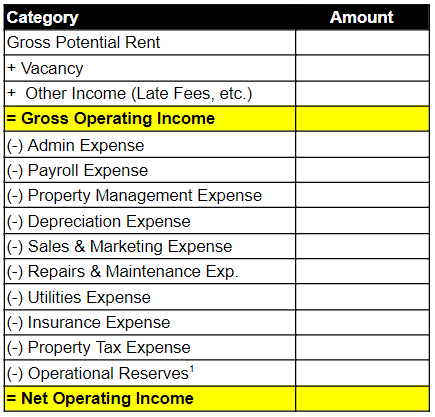 By pursuing changes to any one or all of these line items a commercial property owner can directly impact a property's Net Operating Income and this idea is the basis for the "value-add" investment strategy.
Overview of Value Add Commercial Real Estate Investment

In many of our commercial real estate acquisitions, we build our business plan around a value-add approach, which means that we purposely seek out properties with excellent locations and fundamentals, but also some level of physical, operational, or financial stress.
When we find these "value-add properties," we perform a significant amount of due diligence on the property, leasing activity, operating expenses, and the local real estate market to determine the potential rate of return.  If everything checks out, we attempt to acquire these properties at a discount to their intrinsic value and then apply our operational expertise to "add value" over the course of the investment holding period.
Tactically, the process of adding value just means pursuing strategies to either increase income, decrease expenses, or both.  The exact strategy is unique to the property and its needs, but it can take a variety of forms, including: 
Renovations
If an asset is not property maintained, the structure, architecture, tenant base, and landscaping can deteriorate and become outdated.  Because of this, rents can suffer and fall below market rates.  In such cases, it can be possible to acquire the property for a discount and then invest some amount of capital in the physical improvements needed to improve the property to market standards.  In doing so, rents can be raised, which increases the property's income.  As long as operational expenses stay relatively consistent, the net effect should be an increase on Net Operating Income.
Insourcing
Investors and firms with a high level of operational expertise can "insource" certain functions that are performed by third party vendors and do the same for cheaper.  For example, we have our own in-house property management team so we like to insource this function because we have demonstrated that we can do it better and cheaper.  In a typical asset, the property management expense line item can cost up to 8% – 10% of Gross Revenue so this represents a significant cost savings that goes directly towards increasing Net Operating Income.
Market Adjustments
On occasion, a property may be in good shape, but the owner may not have done a very good job of negotiating leases and lease renewals.  As a result, there can be a material difference between a property's current rents and market rents.  In such cases, a new owner can step in and proactively negotiate higher rates when existing leases come up for renewal, which goes directly towards increasing Net Operating Income.
Expense Management
Experienced investors know that there are general rules of thumb for each expense line item and they have the ability to spot if one of them is out of whack.  If this is the case, a new owner can come in and perform a detailed review of each expense line item to determine if it can be decreased without impacting the overall operation of the property.  For example, if a market has experienced an economic contraction, a new owner can come in and challenge the property's tax assessment.  If they are successful, the property may be re-assessed for a lower value, leading to lower taxes, which leads to increased Net Operating Income.
Tenant Mix
Certain types of tenants have complementary businesses and like to be near each other and they are willing to pay a premium to do it.  So, a new owner could purchase a property, evaluate the tenant base, and make proactive decisions to change it in an effort to achieve higher rents.  For example, we like grocery store anchored shopping centers and there are a number of tenants that like to co-exist in the same center to take advantage of the traffic generated by the grocery store.  These include quick service restaurants, fitness studios, and bank branches.  Given our long standing relationships with many of these types of businesses, we can work with them to replace old tenants with new tenants and achieve higher Net Operating Income in the process.   Ideally, the new businesses will be quality tenants on long term leases.  Lenders and real estate investors prefer this, so the strategy can lead to higher occupancy, lower risk and higher returns. 
In reality, an investor may try some combination of all of these strategies in an effort to maximize the property's  Net Operating Income.  To understand how impactful this can be, an example is helpful.
Value-Add – An Example
The following table illustrates a before and after example of executing a value-add strategy for an acquired asset.  It should be noted that these changes do not happen overnight.  In some cases, it can take years of dedicated focus and consistent execution to realize the benefits.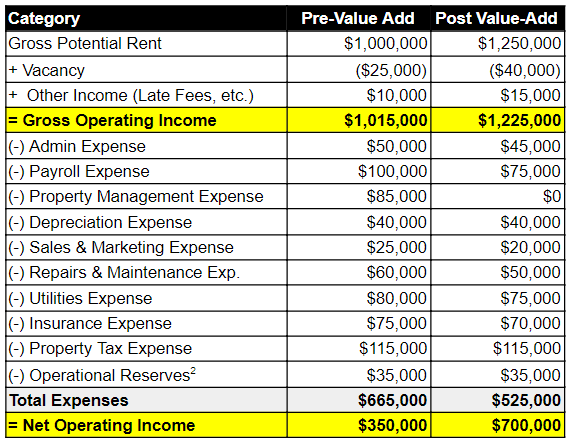 In this example, the property's Net Operating Income is doubled through a combination of income increases and expense decreases.  Assuming a 7% real estate cap rate, the property owner was able to "force" the value to increase from $5,000,000 ($350,000 / 7%)  to $10,000,000 ($700,000 / 7%) over the investment holding period. This does not account for any additional, market-driven, changes, which could push the value even higher.
The point is this, a "value-add" approach is a tried and true method for investors and transaction sponsors to leverage their operational expertise to pursue a number of different strategies, all of which are designed to increase a property's Net Operating Income, and this its value.
Interested In Learning More?
First National Realty Partners is one of the country's leading private equity commercial real estate investment firms. With an intentional focus on finding world-class, multi-tenanted assets well below intrinsic value, we utilize a value-add approach to create superior long-term, risk-adjusted returns for our investors while creating strong economic assets for the communities we invest in.
To learn more about our investment opportunities, contact us at (800) 605-4966 or info@fnrpusa.com for more information.